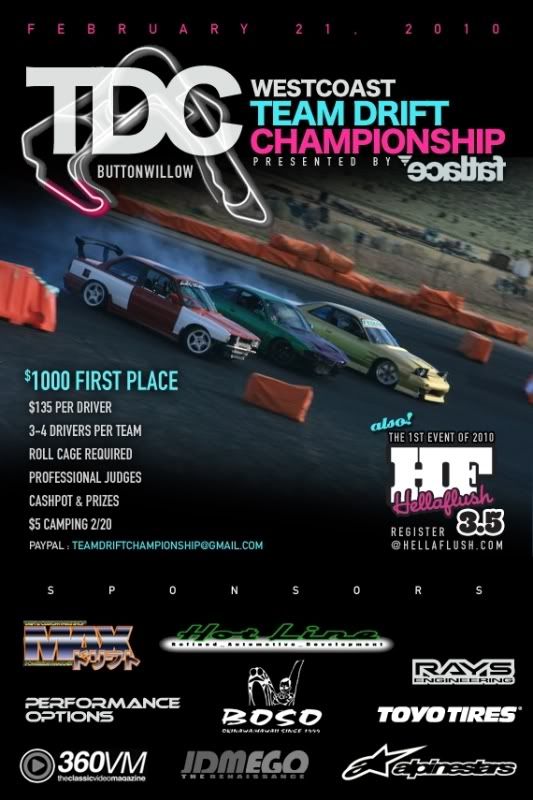 That's the name of the team I joined to compete in the Team Drift Championship Feb. 21. I'm not sure what it's supposed to mean, but I think it may have something to do with Powell
Colin Powell
. Anyways this past weekend I enjoyed some good track fun at
Buttonwillow
race track
. What better way to start the new year, though a bit late, with a
competition
.
It's been a sometime since I drove at Buttonwillow. I rarely go here due to being a bit on the farther side and also the full track layout isn't as fun. Actually it's the two straights I don't like. The rest of it is a cornering freaks dream come true.
In true old school
fashion
I headed out at about 3:30 in the morning. Same way I did it back when I first started tracking the
Corolla
. This time I was balling in the tow rig.
I arrived to a chilly and damp track. Now let's
meet
the members of Team # :
Mayanwarrior (luis) TE72 4AG 20v
jigbros (gaylord) AE86 4AG 16v
ayee420 (chris) AE86 4AG 20v
orange advan (me) AE86 4AG boosted
It's a collaboration of the nor cal (them) and so cal(me) to represent the corollas, I think I was the only So Cal AE86 in the event. Two different factions with 2 different styles . A match made in heaven or a
time bomb
waiting to explode?
The day began with our team actually missing first practice. Not a good start. The next practice sessions, I was struggling finding the driving line and observing my teammates lines and initiation points. Since doing a group drift it requires alot of trust amongst drivers, it was going to be a very interesting day, since I have never driven with them.
Once competition rolled around, I still was not coordinated/prepared to run together. But didn't matter we were going to try and have fun while we were at it. I stayed at the tail end since i was the new guy and had more power than all of them combined. Our runs were less than perfect. Depending on who you talk to, they may say it was very dodgy or magnificent show. But in the end we didn't win, but I definitely had fun and so did the team. And if we didn't come away with the trophy we did come away with our cars in one piece. It days like this that Ice Cube comes to mind.
Can't ask for much more than that.
But here's a vid with 2 of our runs I took trying out a new camera and mount.
Thanks to Nor Cal/Team #: for inviting me into their team and their awesome hospitality. I'll drive with you guys anytime.
Photos from the event
here